About us
Indoor Skydiving Germany Group (ISG) develops, constructs and operates vertical windtunnels for professionals and the entertainment industry. Our high performance tunnels serve as training centers for professional skydivers and military divisions. At the same time they offer the latest attraction for the sports and entertainment industry.
Merken
Merken
Merken

Freefall simulators are getting more and more popular all over the world. In the last years there was an increasing demand for high quality technical solutions. With the incorporation of the ISG One GmbH the ISG Group reacts to those demands and will offer in the future in addition to the standard wind tunnels and freefall simulators models with a new designed drive system.

Inspired by the dream of flying, ISG adapted the internationally recognized German windtunnel technology to the demand and needs of freefall simulation. In 2007, ISG developed in cooperation with the aerospace center of the Technische Universität Berlin the latest, most silent and energy efficient vertical windtunnel worldwide. The aerodynamical design also pays attention to keeping construction cost as low as possible.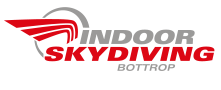 Reference Facility of ISG Group. Opened in 2009. Most successfull windtunnel operation in Europe.